Seeking out new markets for conducting business is something that most businesses across the globe do. But what happens when that challenge transcends the borders of one country? What's the best way to communicate with a foreign audience?
You'll probably need a little extra help.
Did you know that Ocean Translations offers much more than just translations? We do. Our experts can get involved in every stage, beginning with the content creation process.
Do you want to know how we can help you reach a global audience? Below, we'll give you some tips on how we can assist you in reaching that goal.
Six services to empower your messages. Six options for competing on the international market.
1. Translation of Existing Content
From English, Spanish, Portuguese or other languages. The goal is for a translation that doesn't look like a translation. The readers should think that they're reading the original text.
2. Content Creation (from scratch)
Composition of service pages, articles of interest (for a blog or printed communication media), notes for social networks (LinkedIn and Facebook), texts for corporate brochures and annual reports. We entrust these jobs to specialized writers who work off of a briefing and are capable of creating one-of-a-kind pieces.
3. Linguistic Adaptation
In this case, the language doesn't change, but rather, the content is adapted to the idiom of another country or geographic region (by employing neutral Spanish or replacing words that are used in Argentina but not in Mexico, for example). On this subject, there is also the matter of localization—for example, changing references to currency (pesos in Argentina to dollars in the USA), trading Celsius for Fahrenheit, periods for commas, or clothing sizes based on the region (very common on e-commerce sites).
Table of examples of varieties of Spanish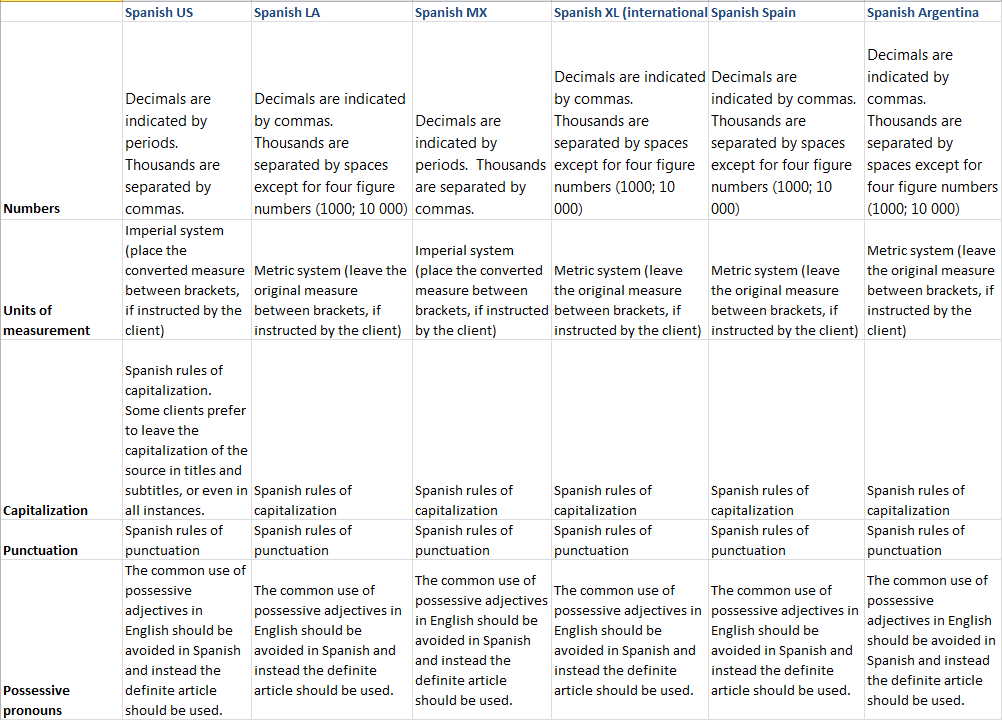 4. Text Editing and Revision
This can be done in any language. We revise texts with expert editors with specialized knowledge of specific sectors (medicine, law, industry, etc.). We don't need to explain that it isn't only literary texts that require an editor; all sorts of linguistic creation, including translation, needs revision.
5. Transcreation
How is transcreation different from translation? The translator can (and should) take more liberties with the original text and adapt it to a totally different context.
Let's look at an example. An advertisement in English that focuses on a protagonist who works in an office in New York must be translated into Argentinean Spanish. If we want the message to carry weight with the local audience, the translator must place the new subject in Buenos Aires.
6. Marketing Copy
Here, we're referring to more persuasive writing that seeks to connect with potential clients. The explicit objective is to sell. Generally speaking, we're talking about preparing advertising content (graphics/video/audio), preparing brochures and developing a slogan, in addition to assessing names of products (area of marketing).
Your Business, Globalized
Competing on the international market is an option, provided that you have a well thought-through strategy that enables you to overcome the language barrier.
At Ocean Translations, we offer you the professional solutions you need to do precisely that. Don't let your message lose strength and effectiveness because of a poor translation.
Are you ready to optimize your business's global impact?