If you weren't paying attention, in certain parts of the United States, a combination of Spanish place names and a myriad of Spanish speakers around you could trick you into believing that you had accidentally woken up in a different country. However, if you consider the exponential growth of Spanish in the USA, everything makes more sense.
With its 50 million Spanish speakers, the United States has the second largest Spanish-speaking population in the whole world. Hispanics represented over 15% of the country's population. Because of the number of native and second language speakers, nearly 1 in 5 people in the USA can speak Spanish, a direct consequence of both Hispanic immigration and population growth. This enormous group of Spanish speakers have consolidated themselves and their language, which has given rise to a specific variety of Spanish, known as US Spanish, into which content can be localized.
The Spanish-Speaking Market in the United States
The US Spanish-speaking market is a considerable one, larger than the economies of most countries around the world. Therefore, Spanish is not really a courtesy as much as it is a requirement, especially in cities such as Miami, where 90% of Latinos speak Spanish at home, or Los Angeles, where 79% of people speak this language. Moreover, 56% of those for whom Spanish is their mother tongue have stated that advertising in Spanish makes them feel respected and acknowledged, which can often translate into brand loyalty.
A History of Spanish in the United States
Spanish has been a part of these lands since the 15th century, when Spain colonized North America, with settlements in areas which are now Florida, Texas, Colorado, New Mexico, Arizona, Nevada, and California. 
In fact, Spanish language rights were included in California's first constitution, and the current constitution is available in both English and Spanish. This can be explained by the fact that every single law, decree, regulation and provision from the legislature, executive, and judicial branches in California needs to be published both in English and Spanish.
It is Miami what is considered the "capital of Latin America", though. This city has a long history as a tourist destination, but its bilingual immigrants have been turning Miami into a trade, travel and communications hub. Some 40 years ago, Miami was the point of entry for nearly 300,000 refugees and immigrants coming from Latin America and the Caribbean, but today, it boasts a variety of bilingual corporations, banks and media outlets.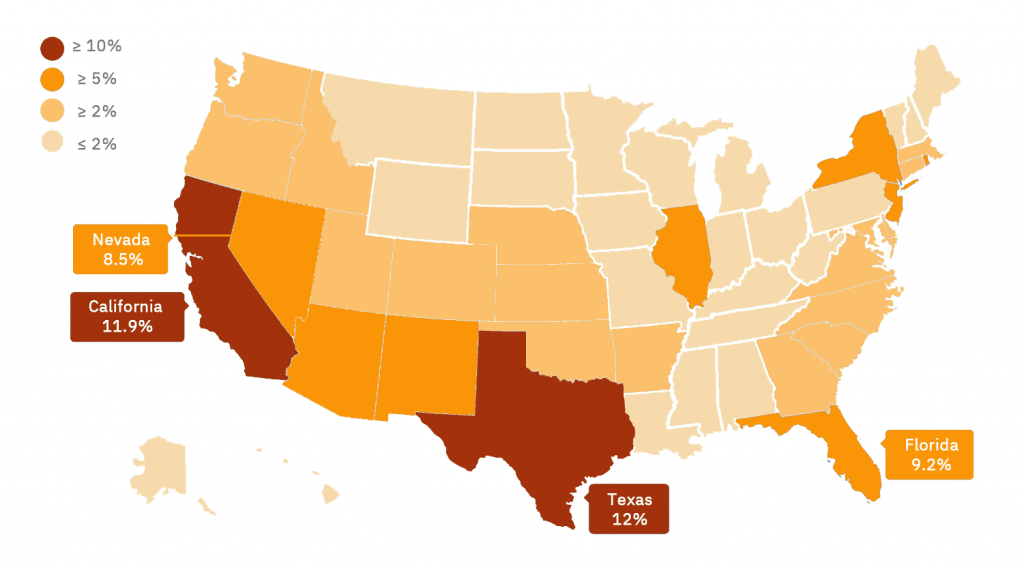 Spanish population in the USReference: American Community Survey, Census Bureau (2017)
Learning Spanish as a Second Language
Because of the clear importance of Spanish within the United States, the rise in the number of students of Spanish as a second language is not a surprise. Nowadays, around 50% of US college students and 70% of students within the first 12 years of scholarization choose to learn Spanish.
Knowing some Spanish can affect your professional choices and it is essential for any hospitality-related work, a big source of jobs for students while they are studying. However, Spanish can also help you communicate with a wider part of your community, especially in those areas of the country where a significant percentage of the population considers Spanish their mother tongue.
Spanglish around the United States
Spanish is so much a part of the USA that its contact with the English language has seen the rise of a contact dialect known as Spanglish. Because 59% of Hispanics who can speak English are bilingual, many people living in the United States combine the two languages daily. A total of 57% of second generation, young Latinos speak Spanglish sometimes, while 26% speak Spanglish most of the time.
Many Spanglish speakers consider that the dialect is an accurate representation of their American and Hispanic heritage and see it as something bringing bilingual Americans together. However, Spanglish is not at all homogeneous. What is considered Spanglish by the Mexican-American communities in Los Angeles is different from the dialect spoken by Puerto Ricans in New York City or Cuban-Americans in Miami.